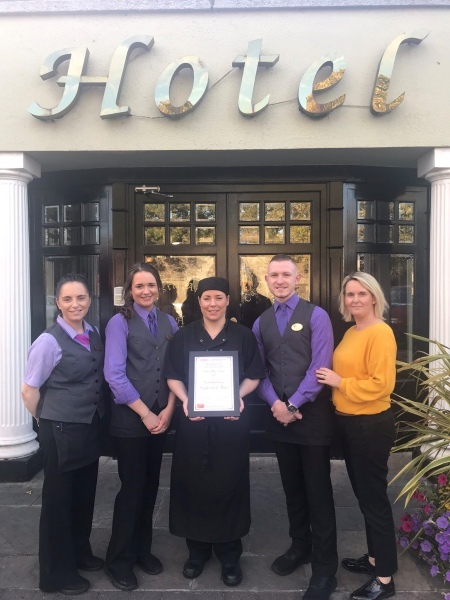 Last Thursday the 27th of September, Trim municipal council held their Pride of Place awards at Trim GAA club. Businesses and volunteer organisations from around the area had entered various different categories including best shop front, best heritage, volunteer of the year and many more. The purpose of the competition is to acknowledge the work being done every day by communities all over the island of Ireland. Since the competition commenced the judges have met hundreds of thousands of people, all of whom are proud of their place. The competition is based on communities demonstrating directly to the judges their pride in their place by oral presentation, exhibitions of community activities and culture and a tour of the area highlighting the aspects of which they are particularly proud. It is also important that the community demonstrates real partnership with their local council and shows that all sectors of the community are included.
The Castle Arch Hotel were delighted to pick up the accolade of best Hospitality/ Tourism on the night. The Hotel is very proud of its activities within Trim, supporting local charities, sponsoring local events and of course actively selling the town of Trim and the area in all of its packages. The Hotel invests highly every year in promoting Trim as a destination and working with local activity providers to give the best experience to visitors of the area.
Shirley Brady, General Manager of the Hotel was delighted with the news. "We are so happy to have been recognised in the Town and area for all of the hard work we do on a daily basis. I am extremely proud of every single one of the team here as without their dedication and professional and friendly service we wouldn't have the fantastic reputation we have today."
The Hotel is hoping that this award will make them a serious contender for the overall award in the Meath Pride of place awards in November.