Nestled in the picturesque heart of the heritage town of Trim, just 35 minutes from Dublin, lies a hotel in Ireland that invites guests to immerse themselves in the old world charm, unique culture and vibrant and fascinating history of this beautiful town.
The Castle Arch Hotel is an award winning three-star boutique hotel, taking the Trip Advisor Choice Award for 2012 among other laurels. We offer a warm and inviting home away from home, whether you're after a memorable family holiday, rich in new experiences, or you're hosting a wedding reception, civil ceremony or family celebration of any description.
Our three-star deluxe hotel offers 21 en-suite bedrooms, all spaciously decorated and designed with guest comfort and tranquillity in mind. Family oriented services, including family rooms, and adventure packages to nearby attractions.
The Castle Arch Hotel is situated near to some of the most spectacular dining in Ireland, but we're even more proud to say that you need not leave the hotel to find some of the most delicious meals in County Meath. We have several dining options available to guests right here in the hotel.
When staying at this popular spot you'll never be short on entertainment, leisure or historical tales, as there is much to see and do in and around the area. Castle arch Hotel boasts the ideal mix of stylish allure and modern magic. Contact us to book a room at a well-known, elegant and popular hotel in Ireland, and experience Castle Arch Hotel today.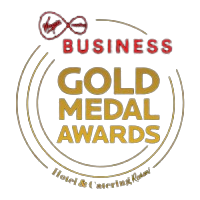 We are pleased to be a 2022 Gold Medal winner of the Virgin Media Gold Medal Awards, under Ireland's 3 Star Hotels.